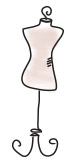 Building the Perfect
Guest Robe
Hoping to find a luxurious, comfortable, and stylish robe in her hotel room, New York City fashion designer Heidi Weisel was instead always underwhelmed.
Every time she wrapped one of the robes around her, it always felt like a boxy and shapeless piece of generic terrycloth or threadbare cotton. The sleeves were too long, the collar was never right, and the fit was disappointing. While traveling for business or pleasure in amazing accommodations, it seemed every almost detail had been considered, except for the hotel guest robes. Heidi wanted something sexy and flattering that she could lounge in, use at the pool, or wear to the spa for a massage. Instead, hotel stay after hotel stay, she found only un-flattering, un-sized,
un-luxurious robes hanging in the closet.